In normal years (remember them? They were once a thing!), we'd now be announcing a whole summer season of open-air cinema screenings in some beautiful locations across the UK. We'd be gearing up our marketing and advertising, making plans with the venues, selling tickets and chatting to customers. This year? None of that, so far.
The ongoing lockdown leaves us in a position of uncertainty, with just a handful of shows already on sale and (obviously) subject to the rules around events this coming summer. We're optimistic, and we're ready to deliver screenings in a socially-spacious and careful way, but we've decided to hold off on announcing any further dates until we're more certain what might happen.
The diary is pretty much full from May to September, and we're due to return to some of our regular, favourite locations, as well as visiting some spectacular new places too. We've also got plenty of films in mind, and with no new cinema releases to offer, it's certainly going to be a summer of classics, with a huge dollop of feelgood fun being the overriding theme.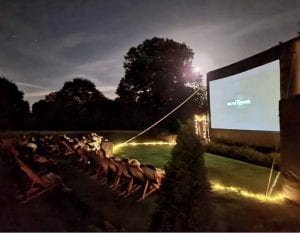 That said, we can't wait until the time comes when we can screen Top Gun: Maverick, Spielberg's West Side Story, and Daniel Craig's swansong as James Bond, No Time To Die. Probably looking like 2022 before we get to air those big hitters, though.
So the point of this update is really for us to just say hello, and remind our lovely customers that we're still here and raring to go with public shows, once it's safe and appropriate.  As soon as we get the nod from that loveable scruff Boris, we'll be shouting about our events from the rooftops (while wearing facemasks and observing safe social distancing, obviously!).
Take care, bear with us, and fingers crossed we'll see you for some serious escapism under starry skies this summer.